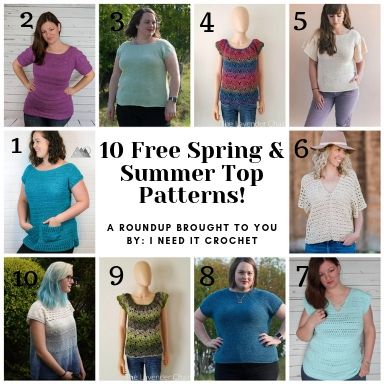 Thank you for reading my roundup post. Many of the patterns contained in this post are not mine and I do not claim them as mine. They are the the hard work of the many dedicated crochet bloggers like myself. The free crochet patterns contained in this post are all linked back to their original blogs and all the credit goes to them. Creating a free crochet pattern requires much work, so please do go and visit their blogs and show them some love!
Spring is in the air! Spring is my second favourite time of year (because nothing can compete with summer 😉 )The grass is getting greener. The birds are coming home. The earth is waking up. I can finally go outside and rejoin nature.
Spring is also a great time to refresh your wardrobe. I can never have too many tops in my closet, so I decided to make a roundup of some of my favourite free spring/summer top patterns.
So grab a drink, sit back, and lets take a look!
1. The Tunic Tee, by Lindsey Dale of Winding Road Crochet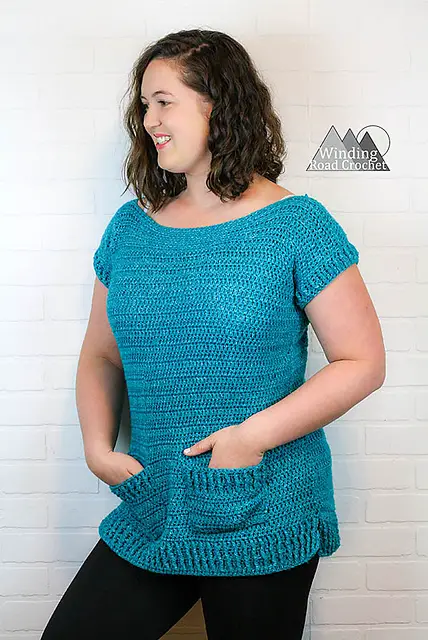 I am a casual girl at heart. Don't get me wrong! I love a pretty blouse when I'm going to a party or getting drinks with my friends. But if I'm just hanging out, I want to be comfortable. That is why I love The Tunic Tee. This is a perfect curl-up-with-your-leggings-a-hook-and-some-yarn kind of top. And if you have to leave the house for a quick trip or a coffee, you still look super stylish! Oh, and btw… pockets. Need I say more?
You can find the free crochet pattern for the Tunic Tee on Lindsey's blog here.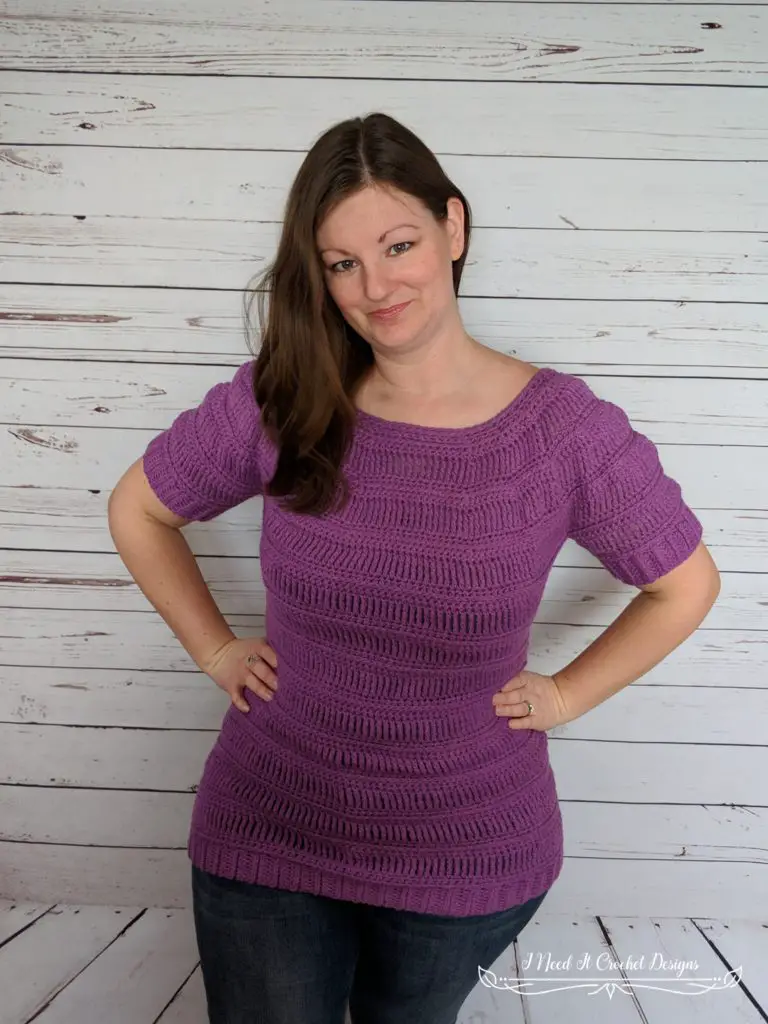 Soon after I wrote this pattern, it quickly became one of my favourite summer tops. You can make it in any length you like, which makes it super versatile. The combination of cotton yarn and the stitch pattern make for a solid looking, but surprisingly well vented top. Plus, the rows of treble crochet make this project just fly off your hook! And can I just comment on the colour? I had no idea I loved purple this much before I made this. <3
You can find the free crochet pattern for the Double Trouble Pullover on my blog, here.
3. The Tatum Top, by Janne Klievset of Joy Of Motion Crochet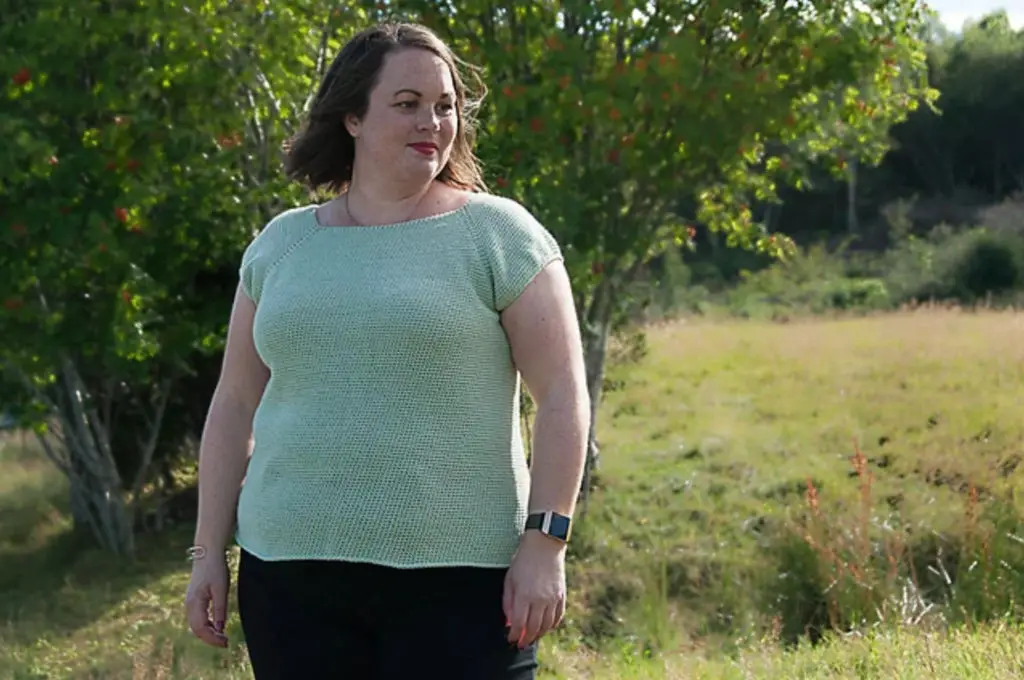 I love a good pattern for a basic tee. If you enjoy the simple, minimalist look you can hook up half a dozen Tatum Tops in different colours and your wardrobe is set! Or, of you like a little more pizazz in your closet, this is the perfect template to just let your creative juices flow. Use a striping or ombre coloured yarn to make a top that will fit well, feel great and turn heads!
You can find the free crochet pattern for the Tatum Top on Janne's blog here.
4. The Lacy Shells Top, by Dorianna Rivelli of The Lavender Chair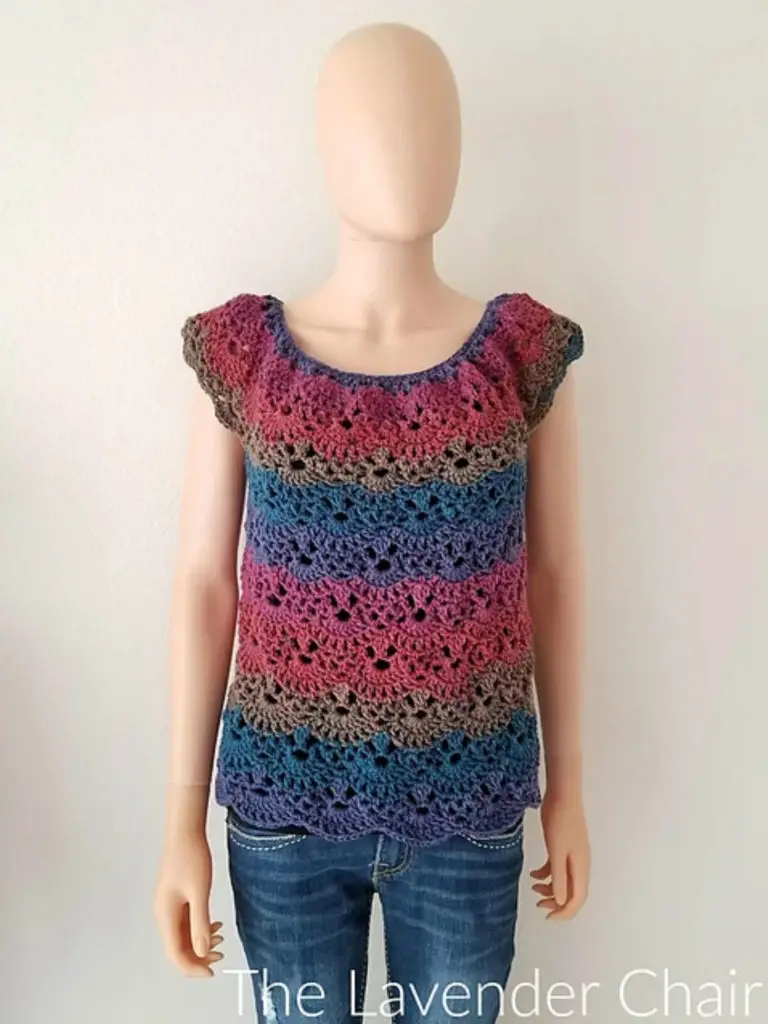 I love this top! From the wide, sloping neckline that shows off your collarbones, to the beautiful stitch pattern that looks so intricate and fancy, yet is very easy to construct. This is a top to be seen! You can make it in self striping or long colour changing yarn like in the pattern photo, or pick a solid colour for an elegant look. And the open, lacy stitch pattern makes this top easy to wear all year! Pair it with a cami in the summer, or throw it under a cardi in the spring and fall.
You can find the free crochet pattern for the Lacy Shells Top on Dorianna's blog here.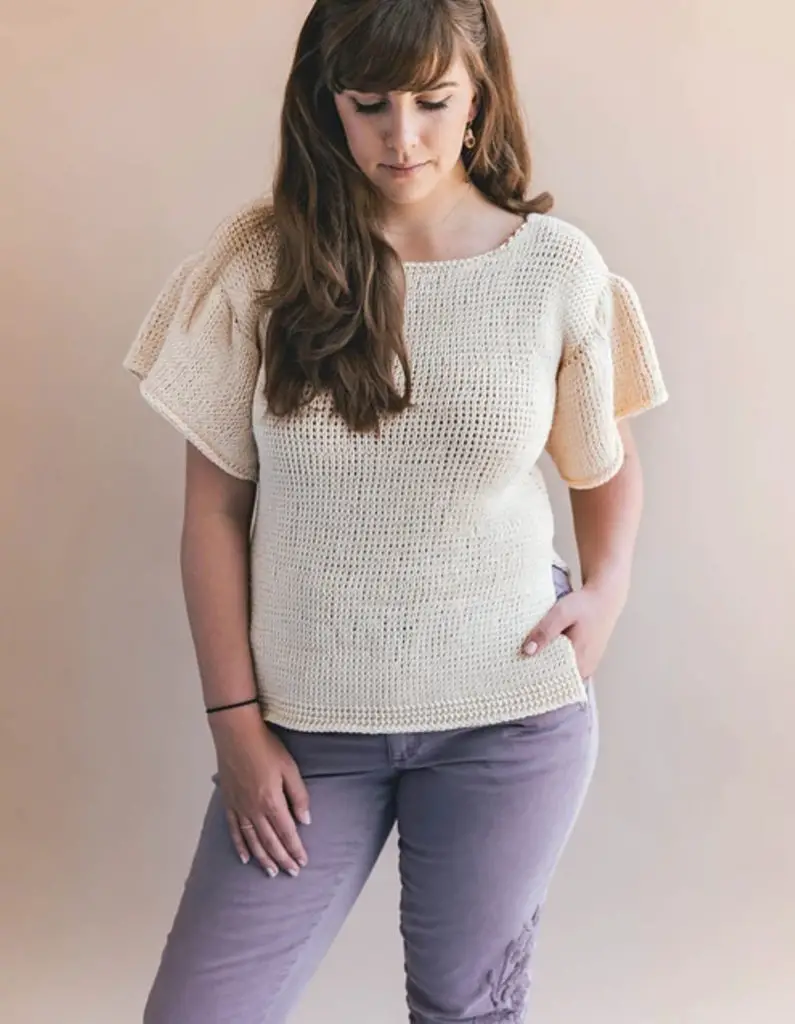 If you are still new to tunisian crochet, or you've been thinking about trying it, I would definitely recommend this pattern! The stitches and construction are fairly simple, but the result is this beautiful, feminine garment that looks gorgeous and fits comfortably. And just look at those sleeves! How sweet are those! If you are afraid of tunisian…don't be! Ashleigh has included many pictures and even some videos to help you along.
You can find the free crochet pattern for the Parisian Tunisian Top on Ashleigh's blog here.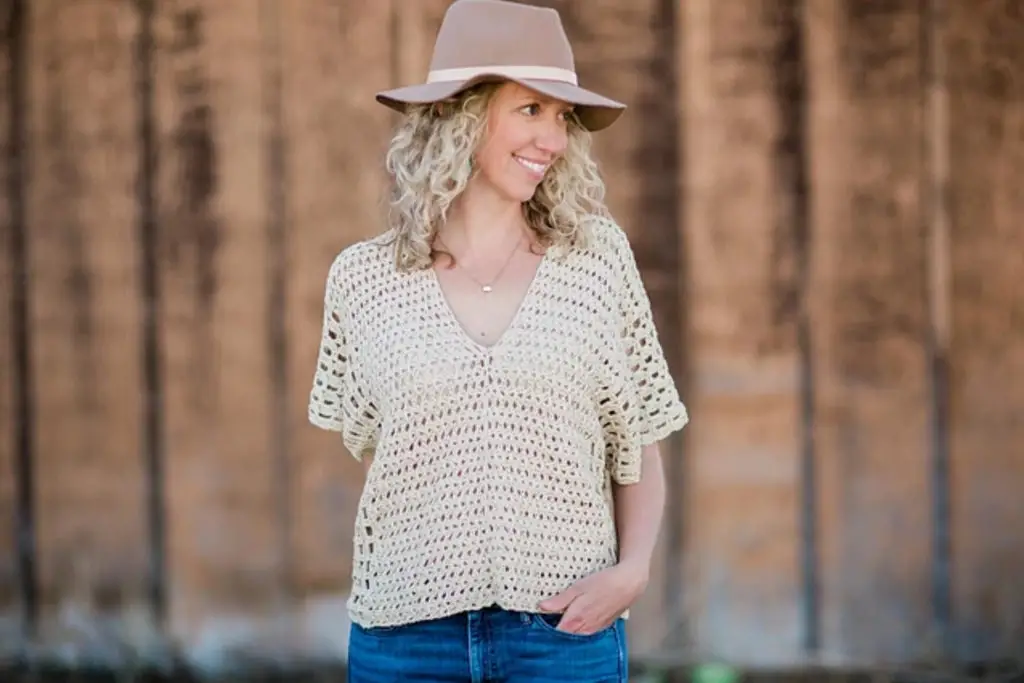 This one is definitely getting added to my closet this summer! I just love so many things about it. The stitch pattern is so pretty and modern. And the construction is so simple. It looks great paired with jeans and a cute hat, as in this picture. But I imagine if one were to make it a bit longer, it would make a gorgeous coverup for a swimsuit! Make it in a bold colour and this piece would be a show stopper. Plus, it is so comfortable and easy to wear, it might never make it back to your closet!
You can find the free crochet pattern for the Saratoga Poncho Top on Jess' blog here.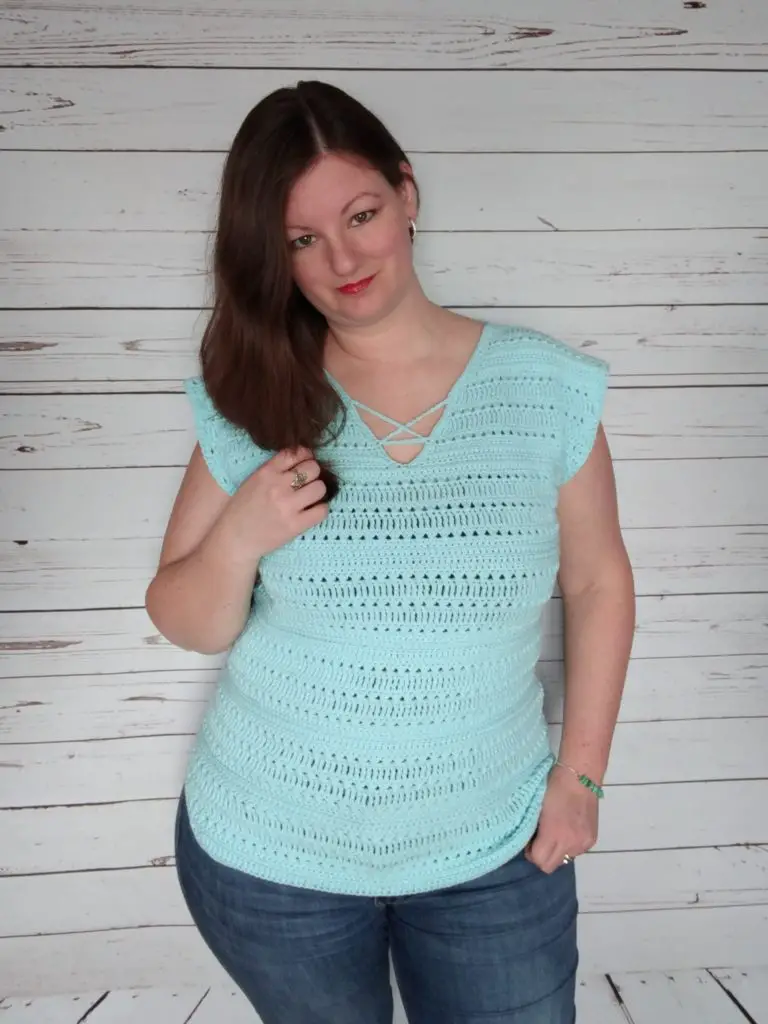 You all know this piece is close to my heart, because it's named after my mom. <3 But it is also one of my favourites because of the stitch pattern. I combined crossed double crochet, 3rd loop half double crochet, and treble crochets to make this beautiful, classy, and not to mention speedy blouse. And need I mention the little detail on the neckline? It looks kinda tricky, but I promise I added lots of pictures and careful instruction to help you along the way. And as great as it looks in a solid colour, like I made mine… It look fantastic in self striping yarn!
You can find the free crochet pattern for the Fran's V Neck Blouse on my blog here.
8. The Classic Raglan Top, by Janne Klievset of Joy Of Motion Crochet

One of the things I love about Janne's blog is she has some great patterns for basic garments. So if you're new to making clothing, this is a great place to start. Everyone needs a good raglan in their wardrobe. I love the way this one fits. Not too tight, not too loose. And the yarn she chose for hers gives the piece a wonderful drape that is so very flattering! Now imagine it in your favourite colour! Raglans are generally made top down and in the round, so you could even choose a striping yarn and it will come out perfectly!
You can find the free crochet pattern for the Classic Raglan Top on Janne's blog here.
The first thing that caught my eye with this piece was the colour. I looove green! <3 But then I looked closer and fell in love with the design! The way that deep, round neckline fans out into those adorable sleeves and falls ever so gracefully down the body… And the stitch pattern is so pretty! It looks fabulous in striping yarn as in this photo, but you gotta see it in a solid colour! It gives the piece a wonderfully dainty, elegant look. I simply have to make this piece!
You can find the free crochet pattern for the Rounded Yoke Falling Fans Top Dorianna's blog here.
10. The Spotting Clouds Top, by Christina Hadderingh of A Spoonful Of Yarn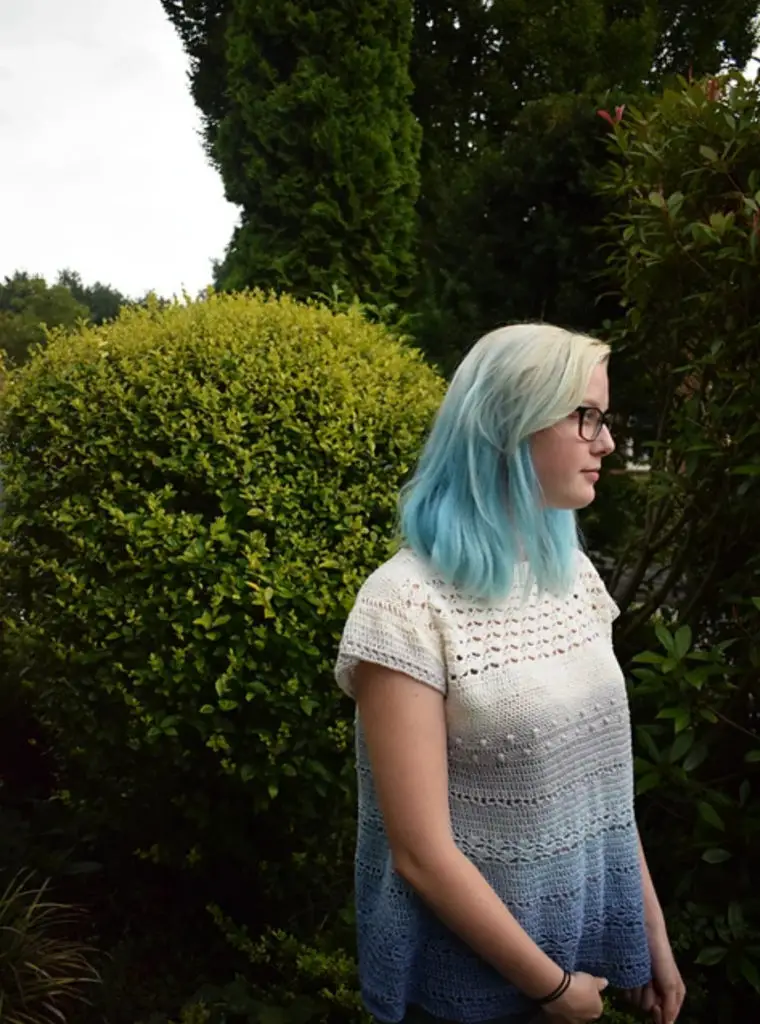 I don't know about you, but I've been crushing on this top ever since I first saw it on ravelry! <3 Naturally, this first thing to catch my eye was the beautiful ombre yarn, which coordinates perfectly with her gorgeous ombre hair! Goals. But then when I looked closer, I saw this gorgeous top that comes loaded with texture and personality. The fine details, simple construction and loose fit puts this pattern on my must-make list this summer. And don't worry if you don't have ombre yarn like hers! This top has a brilliant stitch pattern that will look great in any solid colour you choose.
You can find the free crochet pattern for the Spotting Clouds Top Christina's blog here.
That's the end of my list. Which pattern was your favourite?
Well, I had better get to work if I'm going to get my spring and summer wardrobe ready! I had a blast putting together this list! Be sure to go and send each of these bloggers some love.
And be sure to check back here often. I am always working on new designs and I can't wait to share them with you!
If you enjoyed this list of 10 free must have spring and summer top crochet patterns, you may want to check out my other designs!
Until next time… Happy Hooking! 😉